Cookery Course Dates
Cuisine in Brief
(3 days)
Price £595.00
Gourmet Explorer 2017
(6 days)
Price £1,290
Gourmet Explorer Advanced
(7 days)
Price £1,550
Just Desserts
– Chocolate & Patisserie (3 days)
Price £595
Your Tutors: Meet Our Chefs!
Robert Abraham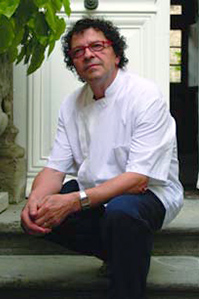 Named the 2009 Midi-Pyrenees Chef of the Year, Robert Abraham has 26 years' experience of 'l'art culinaire'. Recently appointed Head Chef at the impressive Chateau des Ducs de Joyeuse hotel in Couiza, just south of Carcassonne, he previously held this position for five years at Le Ciel D'Or restaurant in the 4-star Relais Royal Hotel in Mirepoix, where, among other plaudits, his food was awarded the maximum 3 Michelin Guide 'fourchettes' for fine food quality.
He has appeared on TV, run restaurants in Paris and Ceret, and with his own St Malo restaurant – called 'Robert Abraham' – won many highly-prized star ratings from the most influential restaurant guides – from 3 Michelin 'fourchettes' to 'toques' from the Bottin Gourmand, the Champérard and the Gault Millau, which awarded him the Cle d'Or.
Robert's 'signature' is incorporating the use of flowers and unusual spices into traditional dishes. Jonathan Meades of The Times remarked of the St Malo restaurant:
'The cleverest, most technically accomplished chefs are rooting through the trad repertoires of their provinces and are applying to the dishes of those repertoires the techniques they acquired as apprentices to the masters of nouvelle cuisine…borne out by the cooking of Abraham…thus, he flavours a galette of leeks, mussels and onions with coriander and sweetish curry power, a promise of some sensational cooking, a promise that is brilliantly fulfilled…The dinner I ate here was the finest I've eaten in France for years'.
Jean-Marc Boyer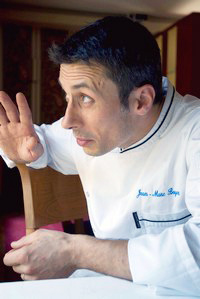 A native of Carcassonne, Jean-Marc Boyer is one of France's dynamic young chefs. While not a household name abroad, he is much feted in his homeland with awards – amongst them a Michelin Star in 2007 – and receives glowing reviews in numerous publications and restaurant guides. He also makes regular appearances on television, most recently featuring in an hour-long programme on the top French Channel TF1.
Having trained in Paris, Jean-Marc then spent more than 20 years in the capital city, working with some of the country's greatest chefs at Michelin-starred restaurants, including 12 years at the 3* Ambrosie under Bernard Pacaund and finally at the Ritz. Returning to the Languedoc, he now enthusiastically produces fine local cuisine at his restaurant Le Puits de Tresor in the ancient Cathar town of Lastours. Jean-Marc sees himself as an artisan, talking of creating dishes spontaneously and instinctively, using the local and seasonal produce grown and reared in the area. He sums up his philosophy in three words:   'Quality, authenticity and rigour'.
Laurent Jeannin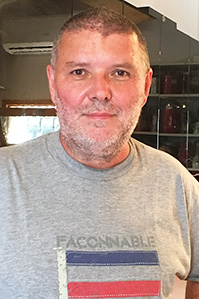 Our new Chef-Tutor Laurent Jeannin modestly claims to be something of a whizz when it comes to sauces.
Laurent greatly impressed recent cookery course participants with his culinary flair, enthusiasm and warmth of approach – as a quick look at our Trip Advisor page illustrates. Could that be because he was born in France's 'capital of gastronomy' Lyon, where his culinary education and training came from a number of Michelin-Star chefs? Then again, maybe the later experience of running his own restaurants or of being Head Chef in Vienna, Cannes, Florida and North Carolina gave him valuable insight into making the sort of food which draws rounds of applause.
Autumn 2016 and Laurent joined our own regular Michelin-Star chef Jean Marc Boyer to co-teach the French House Party Gourmet Explorer course and he delighted our guests with his talent, good humour and wizardry with sauces. Again and again, guests booking with us have declared that French sauces are high on their list of learning 'wants', so Laurent's specialist and unusual sauces went down a treat during his first time with us: the fabulous coffee sauce with guinea fowl and the out-of-this-world grapes-enhanced sauce he served with quail were to die for.
Laurent joins our team of top Chefs, teaching with Jean-Marc Boyer on our Cuisine in Brief and Gourmet Explorer courses from 2017!