What's Your Poisson?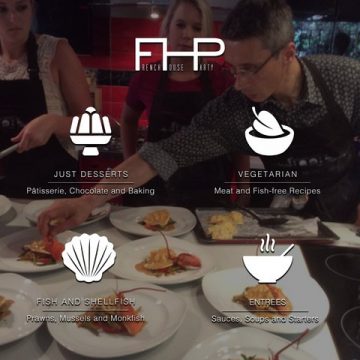 At French House Party Carcassonne we're considering introducing one or more additional speciality 3-day cookery courses in 2019.
But oh dear me, what intensive course or courses would people most like us to offer?
With vegetarianism – and even veganism –hitting a new high in popularity, inspiring UK food manufacturers to diversify their product range in recognition of 'The Vegan Pound', should we have a purely vegetarian course?
Or with the Mediterranean only an hour's drive away, what about three days concentrating on preparing fish, crustaceans and shellfish?
So, in search of a helping hand, we launched an ad on Facebook recently, asking foodie followers to state their preferences – A, B, C or D out of a choice of four specialist courses:
A for Just Desserts: Patisserie and Baking
B for Vegetarian
C for Fish and Shellfish
D for Starters: Soups and other Entrees
Are you wondering what the result was? Well, let's hear it for the fish! This was far and away the most popular, the only contender being the vegetarian cuisine option.
So it looks like we might be adding 'Poissonset Gambas' as a dedicated course later this year. We will keep everyone informed.
Meanwhile, we would be delighted to hear from anyone else who wants to add their vote. Please feel free to send me your choices from A,B, C and D.!
Life is Sweet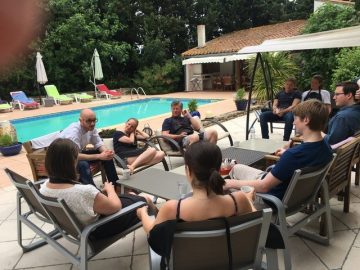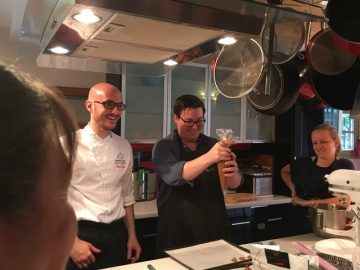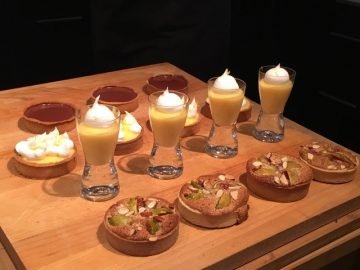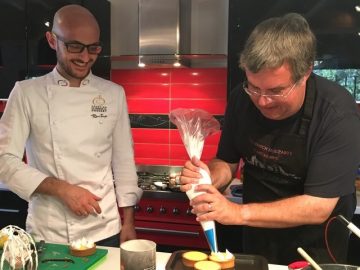 The two big Gastro Academy hits which we introduced last year weren't just candy-coated but honey-centred too.
Because into our course schedule for 6-day Gourmet Explorers and the weekend Cuisine in Briefs we added cakes and chocolate – in a big way.
First came a new chef to join the ranks of Jean-Marc Boyer – who was our original chef (complete with his Michelin star) in 2009 when French House Party began the cookery programme – and Laurent Jeannin, a super chef who joined us more than two years ago.
The 2018 newcomer was junior in terms of age, but just as starry: Remi Touja runs his own patisserie shop down one of those atmospheric cobbled streets in the centre of the city of Carcassonne. He is the proud holder of the national Sucre d'Or patisserie prize which he won when he was head patisserie chef at Le Parc, Carcassonne's only 2*Michelin restaurant.
Remi began doing a Sunday morning patisserie session with us last May and his creative genius and bouncy personality went down a storm with clients – as did the macaroons they made. Remi showed other 2018 groups how to make French pastry specialities such as eclairs, Paris Brest, the spectacular two-storey Religeuse – plus a variety of fruit tartes.
Chocs Away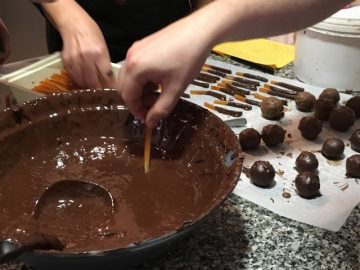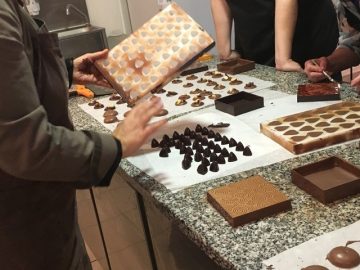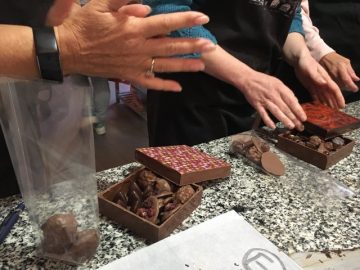 And then there's the chocolate-making.
Our chocolatier, Marion, has become a regular fixture and we take our groups to her chocolate laboratory in Pennautier, a tiny walled village on the outskirts of Carcassonne.
From the moment you step through the door and are overwhelmed by the wonderful scent of melted chocolate, to the moment you leave, your own box of personally-made chocs in your hand, it's sheer pleasure.
Are you wondering whether we will be including Marion's chocolate masterclasses in this year's cookery courses too?
Yes – I should cocoa!
Cuisine in Brief 2019 (3 days)
Price £625.00
• April 26 – 28 2019
• April 29 – May 1, 2019
• May 31 – June 2, 2019
• June 3 – 5, 2019
• Sept 6 – 8, 2019
• Sept 9 -11, 2019
• Oct 4 – 6, 2019
• Oct 7 – 9, 2019
Gourmet Explorer 2019 (6 days)
Price £1,390
• April 26 – May 1, 2019
• May 31 – June 5, 2019
• Sept 6 – 11, 2019
• Oct 4 – 9, 2019
To book or for more information please get in touch with Moira on frenchhouseparty@gmail.com
Creative Writing – A Big Thank-You!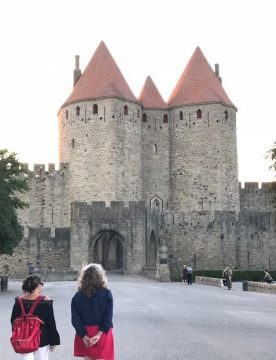 Since 2007 the inspirational Sarah Hymas has been our Creative Writing tutor. We started out then with an annual beginner/intermediate course 'Write Like No One's Watching'.
It proved so popular that a few years ago we added a second week: this time a tutored retreat for more seasoned writers who are usually working towards publication of their work. That's been a success too. So much so that we now have a small set of returnee scribes each one of whom is almost guaranteed to be delighted to find a familiar face or two when they come to Carcassonne on the 'Pen&Think' retreat.
Amazingly, last summer four of the seven guests already knew each other from previous years. For one or two it was their third and even fourth time. This is really great for new participants when it comes to settling into the course with people who already know the ropes and can welcome them. It's also a huge pleasure for Sarah and me (Moira) to reconnect with lovely and creative folk whom we now regard as chums.
Plus, it's so relaxing for us! Some returning clients choose their bedroom in advance. They recognise the super restaurants we visit or request trips to familiar places – last year we sauntered again around the medieval book-town Montolieu in the scorching heat. Mealtimes are relaxed and jovial: first-timers fit in right away and that makes organisation a breeze for the French House Party team.
So we must affectionately thank all our regular and enormously talented returnees who make our Creative Writing programme a summer highlight: Thank you!
*Oh yes, and there's also a bit of mutual admiration going on if our TripAdvisor reviews are anything to go by. See the reviews here.
2019:
• "Write Like No One's Watching" 17-22 June. 6 days, 5 nights. All-inclusive from £895.
• "Pen&Think" 24-30 June, 7 days, 6 nights. All-inclusive from £995.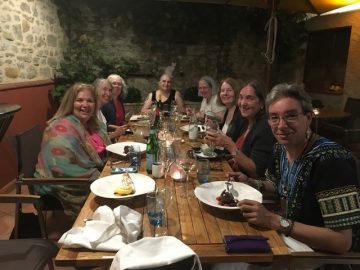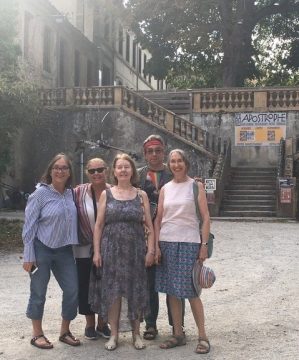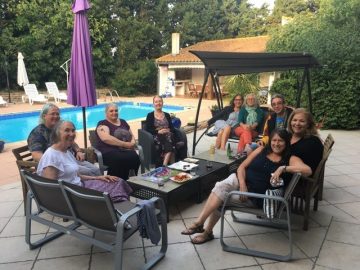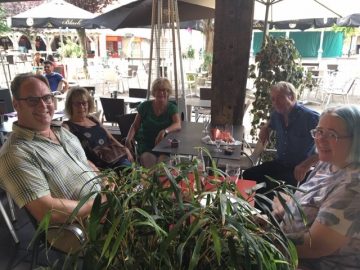 Custom Building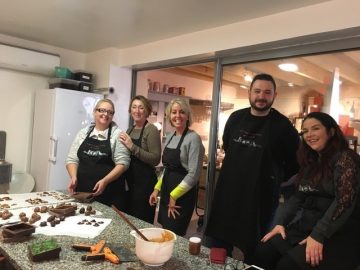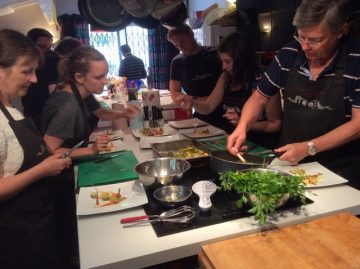 One of the things at which French House Party excels is custom-building breaks for private groups.
When they – whether they're friends,families or corporate clients – book their tailor-made break with us, this is where the final word of our company name really comes into its own.
For starters, when everyone already knows each other –and hopefully likes each other – the first few hours after arrival are not spent ice-breaking politely with a set of new people.
Instead, everyone usually hits either the wine or the surface of the swimming-pool with total abandon and the Day One dinner can be a jovial – and even hysterical – party affair.
In comparison, our clusters of strangers can take up to 24 hours to reach this level of reckless jollity. Although be assured: they do usually get there.
In 2018, as with most years we had a few groups for whom we advance-planned their holiday down to the last detail. Among them was a party of women who wanted a relaxation break, a large family celebrating a parent's 'big birthday' with their own by-arrangement Gourmet Explorer cookery week, and a very large corporate gathering of top sales stars from a prestigious UK company.
MEMORABLE
This last memorable crowd was made up of side-achingly funny people who gave us – the FHP team – a feast of entertainment, whether on giggle-filled car journeys to gorgeous restaurants or during other organised trips, and even at home, where they crashed out for only some of the time.
In this instance, the 8-bedroomed FHP house could not accommodate everyone, so nearby friends, Neil and Vickie Malyon turned over the bedrooms in their beautiful gite complex to half of our group (click here to see Neil and Vickie's place). Like a well-oiled machine our team of drivers chauffeured the outliers to and from the main venue outside the hours of slumber (which, to be honest, were few).
What did we plan for them? A chocolate-making session with our chocolatier Marion (see above), ten-pin bowling, fizz-tasting at one of Limoux's producers of Cremante, meals out in medieval Carcassonne and at a fine restaurant … and a special five-course dinner at home cooked by our own famous chef Jean-Marc Boyer. A good time was definitely had by all.
Custom-building is something we are good at. For a group booking, we discount individual prices by 10%, which can mean that one person's place is free.
If anyone would like to find out more, learn about the sort of events we are able to arrange and discuss a programme for this year or for 2020, please email Moira on frenchhouseparty@gmail.com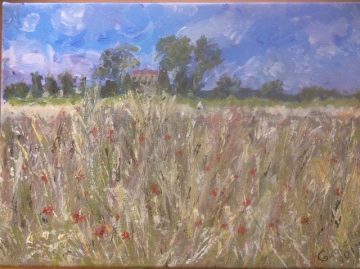 This is a beautiful painting of the house done last year by Gabrielle O'Donovan, one of our Creative Writing course regulars, thanks too to her fellow Pen&Thinker Tanya who took the lovely photo (above) of Moira and Sarah at medieval Carcassonne.