Cookery Course Dates
Gourmet Explorer
(6 days)
Cuisine in Brief
(3 days)
Gourmet Explorer Advanced
(7 days)
Just Desserts – Chocolate & Patisserie
(3 days)
Your Tutors: Meet Our Chefs!
Jean-Marc Boyer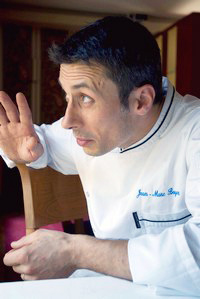 A native of Carcassonne, Jean-Marc Boyer earned his reputation as one of France's dynamic young chefs. He is much feted in his homeland with awards – among them a Michelin Star in 2007 – and receives glowing reviews in numerous publications and restaurant guides as well as international acclaim from high-profile chefs who have long recognised his talent. He also makes regular appearances on television, most recently featuring in an hour-long programme on the top French Channel TF1. He has worked on an annual as visiting guest celebrity chef for top gastronomic restaurants in Japan, China, Shanghai, New York and Norway.
Having trained in Paris, Jean-Marc spent more than 20 years in the capital city, working with some of the country's greatest chefs at Michelin-starred restaurants, including 12 years at the 3* Ambrosie under Bernard Pacaund and finally at the Ritz. Returning to the Languedoc, he now enthusiastically produces fine local cuisine at his restaurant Le Puits de Tresor in the ancient Cathar town of Lastours. Jean-Marc is passionate about his work and sees himself as an artisan, talking of creating dishes spontaneously and instinctively, using the local and seasonal produce grown and reared in the area. He sums up his philosophy in three words: 'Quality, authenticity and rigour'
Remi Touja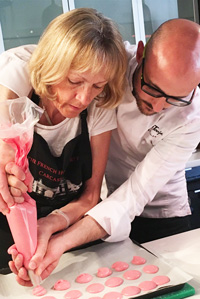 Originally from Gers, Rémi Touja grew up amongst vineyards, cereal crops and farm poultry. It was therefore natural that his parents would pass on the value of quality products and the pleasure of cooking with them.
With this culinary background, he perfected his art at the hotel school of Auch, before working for numerous Michelin-starred restaurants across the length and breadth of France where he developed his taste for excellence.
In 2013, his passion and creativity led him to become French Dessert Champion, winning the much sought-after Sucre d'Or national patisserie championship prize for pastry chefs and in 2016 he realised his entrepreneurial dream by opening what has become a most renowned patisserie shop in Carcassonne.
'When I imagine patisserie, I do everything I can to create emotion, pleasure and new sensations, and for that we must continually innovate. An explosion of different flavors in the mouth one after the other together with a joyful melée of textures!'
Laurent Jeannin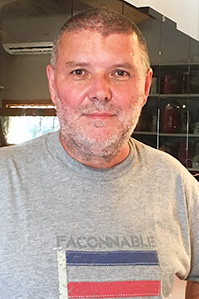 Chef-Tutor Laurent Jeannin modestly claims to be something of a whizz when it comes to sauces.
Laurent greatly impressed recent cookery course participants with his culinary flair, enthusiasm and warmth of approach – as a quick look at our Trip Advisor page illustrates. Could that be because he was born in France's 'capital of gastronomy' Lyon, where his culinary education and training came from a number of Michelin-Star chefs? Then again, maybe the later experience of running his own restaurants or of being Head Chef in Vienna, Cannes, Florida and North Carolina gave him valuable insight into making the sort of food which draws rounds of applause.
In Autumn 2016 Laurent joined our own regular Michelin-Star chef Jean Marc Boyer to co-teach the French House Party Gourmet Explorer and Cuisine in Brief courses and he delighted our guests with his talent, good humour and wizardry with sauces. Again and again, guests booking with us have declared that French sauces are high on their list of learning 'wants', so Laurent's specialist sauces went down a treat: the fabulous coffee sauce with guinea fowl and the out-of-this-world grapes-enhanced sauce he served with quail were to die for. Laurent joined our top team of chefs and is now a regular, specialising in classic French recipes.