Cookery Course Dates
Cuisine in Brief
(3 days)
Price £695.00
April 26 – 28, 2024
April 29 – May 1, 2024
September 20 – 22, 2024
September 23 – 25, 2024
Gourmet Explorer
(6 days)
Price £1,525
April 26 – May 1, 2024
September 20 – 25, 2024
Gourmet Explorer Advanced
(7 days)
Just Desserts – Chocolate & Patisserie
(3 days)
Your Tutors: Meet Our Chefs!
Jean-Marc Boyer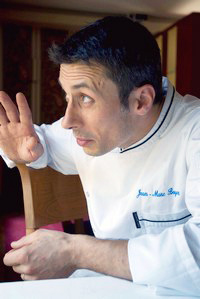 A native of Carcassonne, Jean-Marc Boyer earned his reputation as one of France's dynamic young chefs. He is much feted in his homeland with awards – among them a Michelin Star in 2007 – and receives glowing reviews in numerous publications and restaurant guides as well as international acclaim from high-profile chefs who have long recognised his talent. He also makes regular appearances on television, most recently featuring in an hour-long programme on the top French Channel TF1. He has worked on an annual as visiting guest celebrity chef for top gastronomic restaurants in Japan, China, Shanghai, New York and Norway.
Having trained in Paris, Jean-Marc spent more than 20 years in the capital city, working with some of the country's greatest chefs at Michelin-starred restaurants, including 12 years at the 3* Ambrosie under Bernard Pacaund and finally at the Ritz. Returning to the Languedoc, he now enthusiastically produces fine local cuisine at his restaurant Le Puits de Tresor in the ancient Cathar town of Lastours. Jean-Marc is passionate about his work and sees himself as an artisan, talking of creating dishes spontaneously and instinctively, using the local and seasonal produce grown and reared in the area. He sums up his philosophy in three words: 'Quality, authenticity and rigour'
Gregory Legros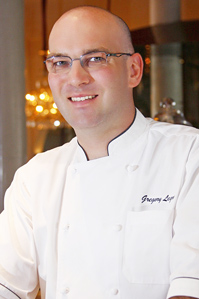 What does the celebrated Sandy Lane Hotel in Barbados have in common with French House Party? Well, the most important connection is Patisserie Chef and Chocolatier M. Gregory Legros, one of our chefs d'excellence tutoring our 2022 courses.
Gregory Legros was six when he decided to become a chef. After his chef's training he centred his gaze on patisserie, spending a further three years under the tutelage of an inspirational pastry chef. "He was my mentor, teaching me the solid basics which enabled me to fly by myself," says Gregory.
And fly he did. He spent a decade working in various Michelin restaurants in France, including Michel Rostang in Paris and Le Majestic on the Croisette in Cannes – a historic luxury hotel built in 1926 which is teeming with movie stars during the Cannes Festival.
Then in 2004 Gregory left his home in this part of France to live and work abroad. He established his international reputation in some of the most prestigious restaurants in the world's leading 5-star hotels: in New Zealand, in Vietnam, in Oman – where he was Head Patisserie Chef – and at the legendary Sandy Lane Hotel where he spent years in the same role.
Now he and his family are back home and as well as teaching at a local culinary college – where he trains other professional chefs – Greg has built up a separate private enterprise creating magnificent cakes to order. And tutoring our French House Party clients too, of course.
Remi Touja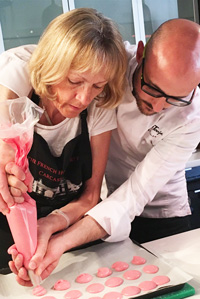 Originally from Gers, Rémi Touja grew up amongst vineyards, cereal crops and farm poultry. It was therefore natural that his parents would pass on the value of quality products and the pleasure of cooking with them.
With this culinary background, he perfected his art at the hotel school of Auch, before working for numerous Michelin-starred restaurants across the length and breadth of France where he developed his taste for excellence.
In 2013, his passion and creativity led him to become French Dessert Champion, winning the much sought-after Sucre d'Or national patisserie championship prize for pastry chefs and in 2016 he realised his entrepreneurial dream by opening what has become a most renowned patisserie shop in Carcassonne.
'When I imagine patisserie, I do everything I can to create emotion, pleasure and new sensations, and for that we must continually innovate. An explosion of different flavors in the mouth one after the other together with a joyful melée of textures!'